Valentine's Day Cupid Popcorn
WHAT YOU NEED:
Making Cupid Popcorn is a fun and festive Valentine's Day treat you can make with the kids. You just need a few simple cooking supplies and five basic ingredients.

SUPPLIES:
Microwave oven
Scissors
Mixing bowl
Small microwave safe glass bowl
Mixing spoon
Parchment paper
Baking sheet (optional)
Small cellophane bags or paper cups (optional)
INGREDIENTS
1 3.2 oz bag of microwave popcorn
1/2 cup white chocolate chips
1/2 cup conversation hearts
1/4 cup Valentine's M&Ms
Pink food coloring for candy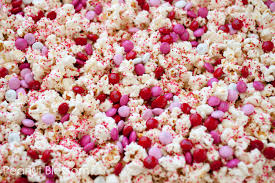 DIRECTIONS
Here are a few tips and tricks that I wanted to share before you get to the entire recipe in the printable recipe card further on.

1. POP THE POPCORN & REMOVE UNPOPPED KERNELS
How do you remove unpopped kernels from popcorn before you make a snack mix? I found a really handy trick that works every time.

Make a really small opening in the top of the bag with the scissors before you open the bag. This should be smaller than the popped popcorn. Then, shake the bag and the unpopped kernels will fall out through this hole.

2. MELT THE CHOCOLATE
There are lots of ways to melt chocolate safely. I prefer to do it in the microwave. If you use the microwave, don't forget to stir it every 10 seconds or else it will burn.

I can't stress this enough. Do not overheat the chocolate. If you do, it will seize up and turn into an unusable clumpy thick paste.

3. COLOR THE CHOCOLATE
Next, add food coloring to the white chocolate until it reaches your desired shade of pink. Make sure to use the kind intended for coloring candy or chocolates to prevent the chocolate from seizing. Then pour the melted chocolate over the popcorn while it's still warm. Gently fold the chocolate into the popcorn until it's evenly coated. Be very careful not to break or crush the popcorn kernels as you stir.
4. ADD CANDY AND ALLOW THE CUPID POPCORN TO SET
Spread the chocolate covered Cupid Popcorn in an even layer on a piece of parchment paper. You can either do this on a metal baking sheet or place the parchment paper on your countertop. Before the chocolate sets, sprinkle the Cupid Popcorn with conversation hearts and Valentine's Day M&Ms. Allow the Cupid Popcorn to set for at least one hour until the chocolate has hardened.

5. SERVE OR STORE THE CUPID POPCORN
Once the chocolate has hardened on the Cupid Popcorn, separate the popcorn kernels a little if necessary. You can serve and snack on it immediately. Or store the Cupid Popcorn in an airtight container for later. You could also bag it up and give it as Valentine's Day gifts to friends and neighbors!