WHY SPORTSPRO SUMMER CAMP?
SPORTSPRO Camps provide children ages 3-15 a place where they are safe, physically active, developing friendships and creating summer memories that last a lifetime! Centrally located at the Suffolk Community College Grant Campus off Exit 53 of the LIE.
SPORTSPRO CAMPERS UTILIZE:
60,000 sq. ft. air-conditioned indoor field house/gymnasium with 5 multisport courts including an NCAA regulation basketball court and track…THEY LOVE IT!
An indoor Olympic size heated swimming pool for instructional and recreational swim… THEY LOVE IT! (Never miss a swim due to inclement weather!)
Air-conditioned theatre
Practice fields and baseball diamond
Outdoor tented areas for art, science and recreational activities
Optional Field Trips (see calendar for details)
Our curriculum is led by professional teachers and coaches and includes physical education programs and games, preschool enrichment, tennis, swimming, project adventure, arts & sciences, amazing theme events, CIT training, and sport specific activities for both the developing and high performance player.
We offer the most flexible schedules on Long Island! Select weeks or pick your days!
Camp Information:
Camp Hours: 9am-4pm (before & aftercare available)
Tours Scheduled: 7 days/week by appointment.
Mailing address: PO Box 11243, Hauppauge, NY 11788
SPORT SPECIFIC CLINICS / AMAZING DAILY THEME CALENDAR OF EVENTS / OUTRAGEOUS MULTISPORT GAMES / KARATE / YOGA / ZUMBA for kids / GAGA BALL / DODGEBALL TOURNAMENTS / COLOR WARS / OLYMPIC WEEK / SPAGHETTI SWIM / DAY TRIPS….and more!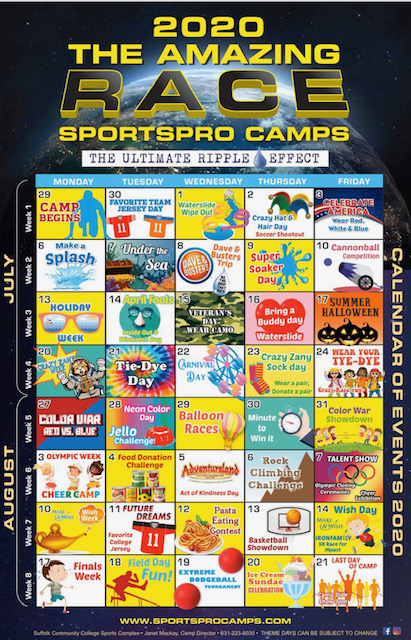 Business Review
"Janet Mackay and her team at Sportspro Camps continue to exceed all expectations every year to make sure my kids have the most amazing experiences every summer! I have never seen a more energetic, professional and dedicated group and the facility is amazing!" - Hauppauge mom